Regular price
$2,499.00 USD
Regular price
Sale price
$2,499.00 USD
Unit price
per
Sale
Sold out
This simulator kit allows you to create a professional and highly accurate golf simulator driving range using the launch monitor of your choice and their Golf Driving Range App. There's also the option to upgrade to various golf course simulator software packages in the future, such as TGC2019 with over 150,000 courses (at additional cost)
Free Shipping in Continental USA
Need Help? Call Us: (252) 424-7247
View full details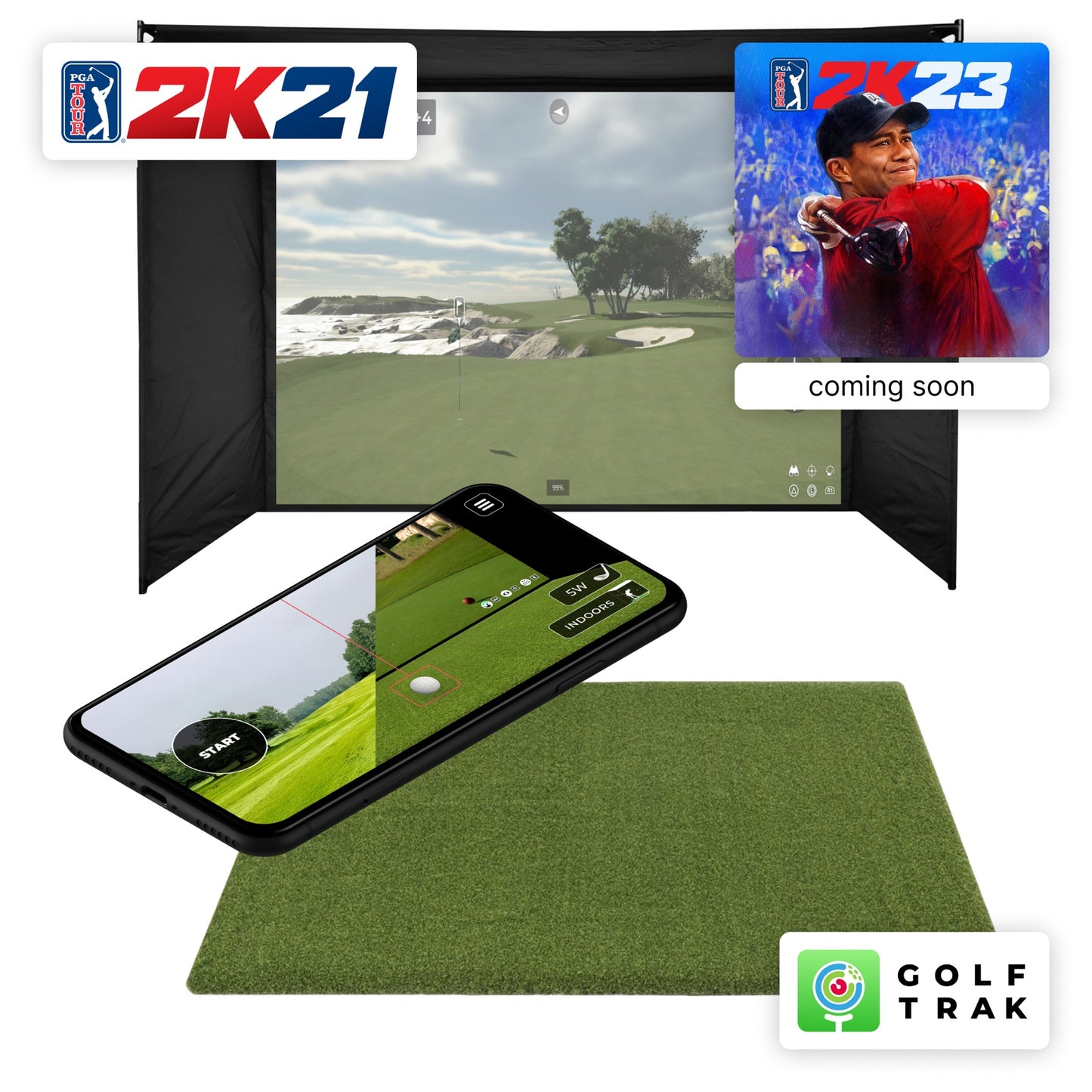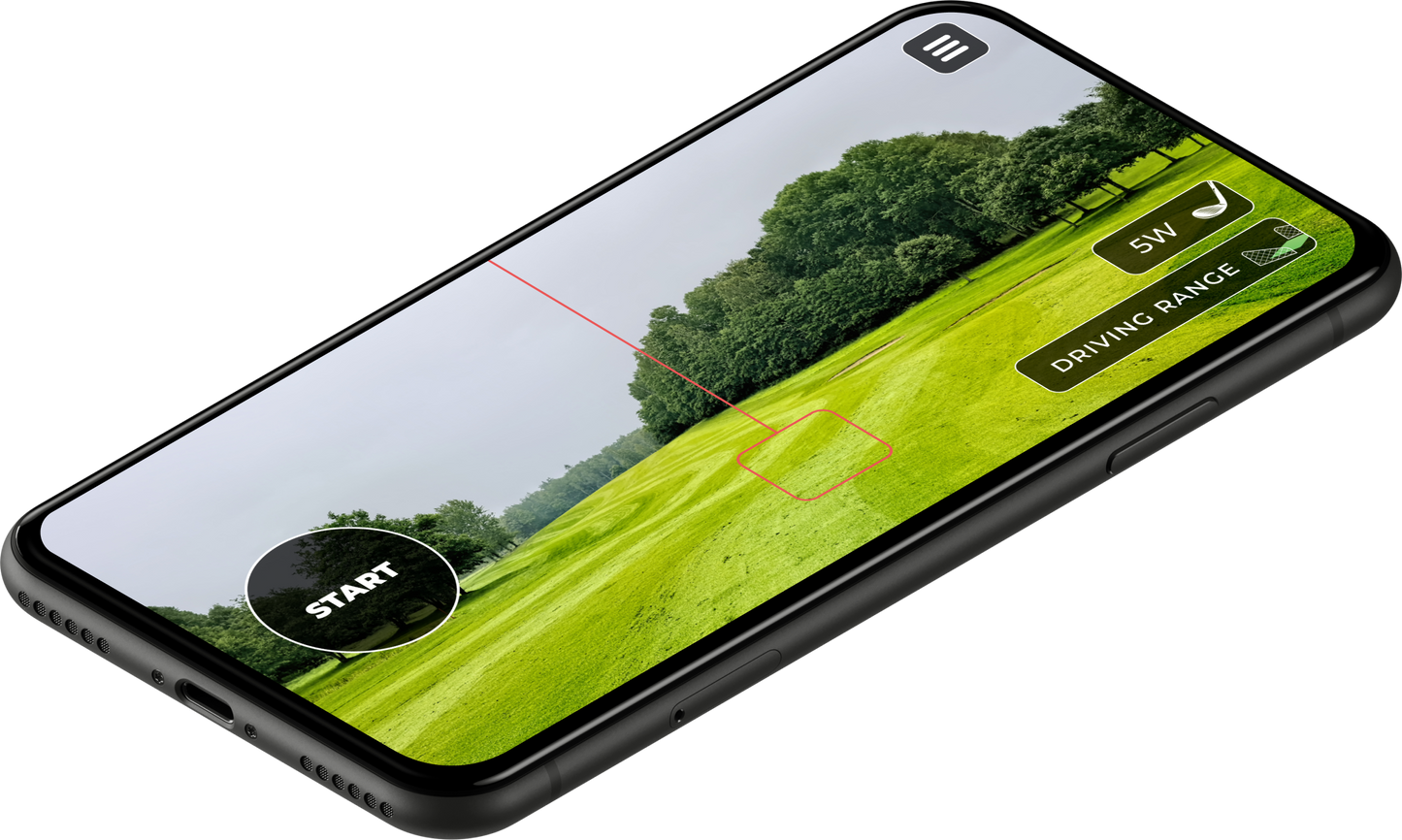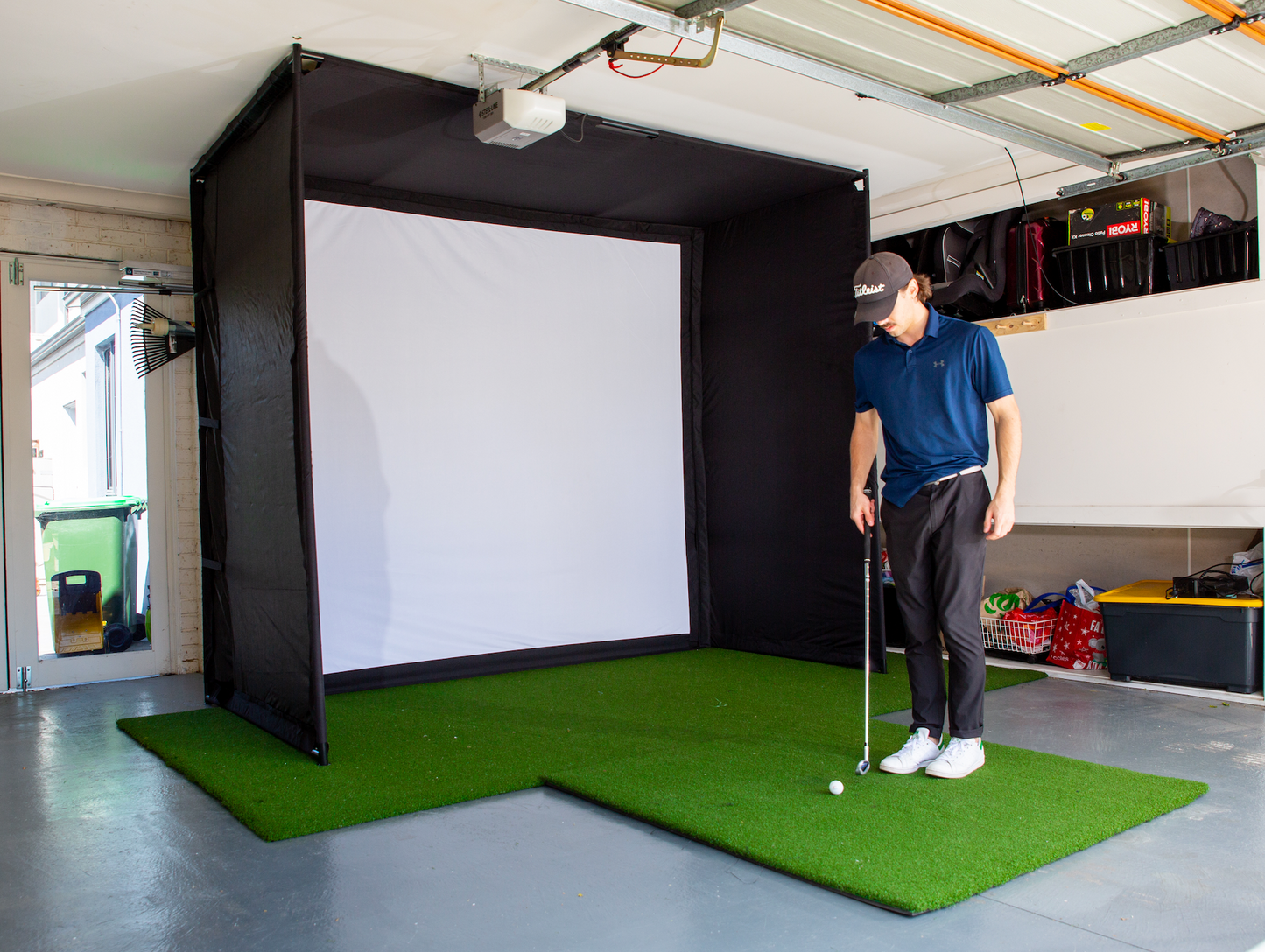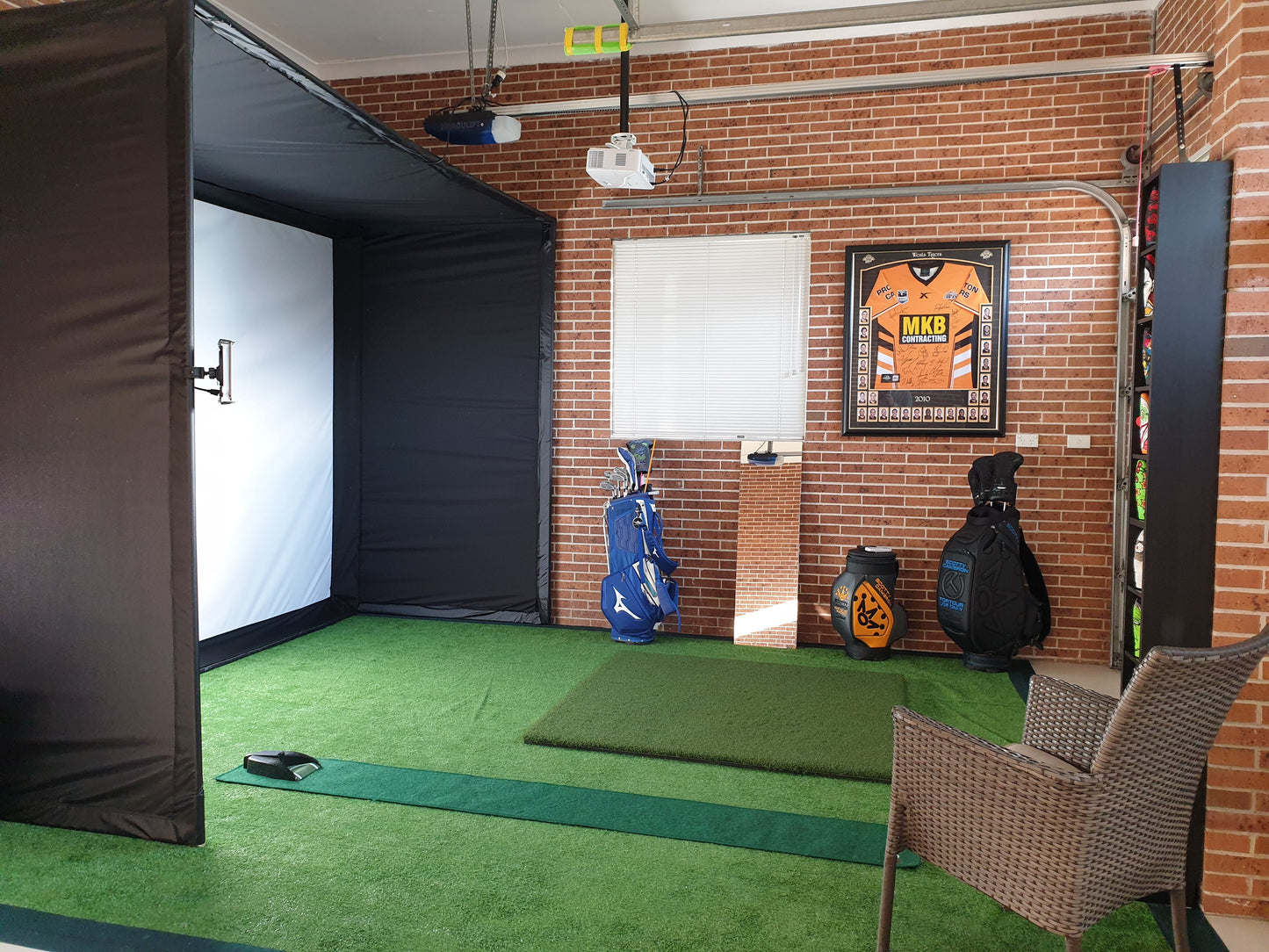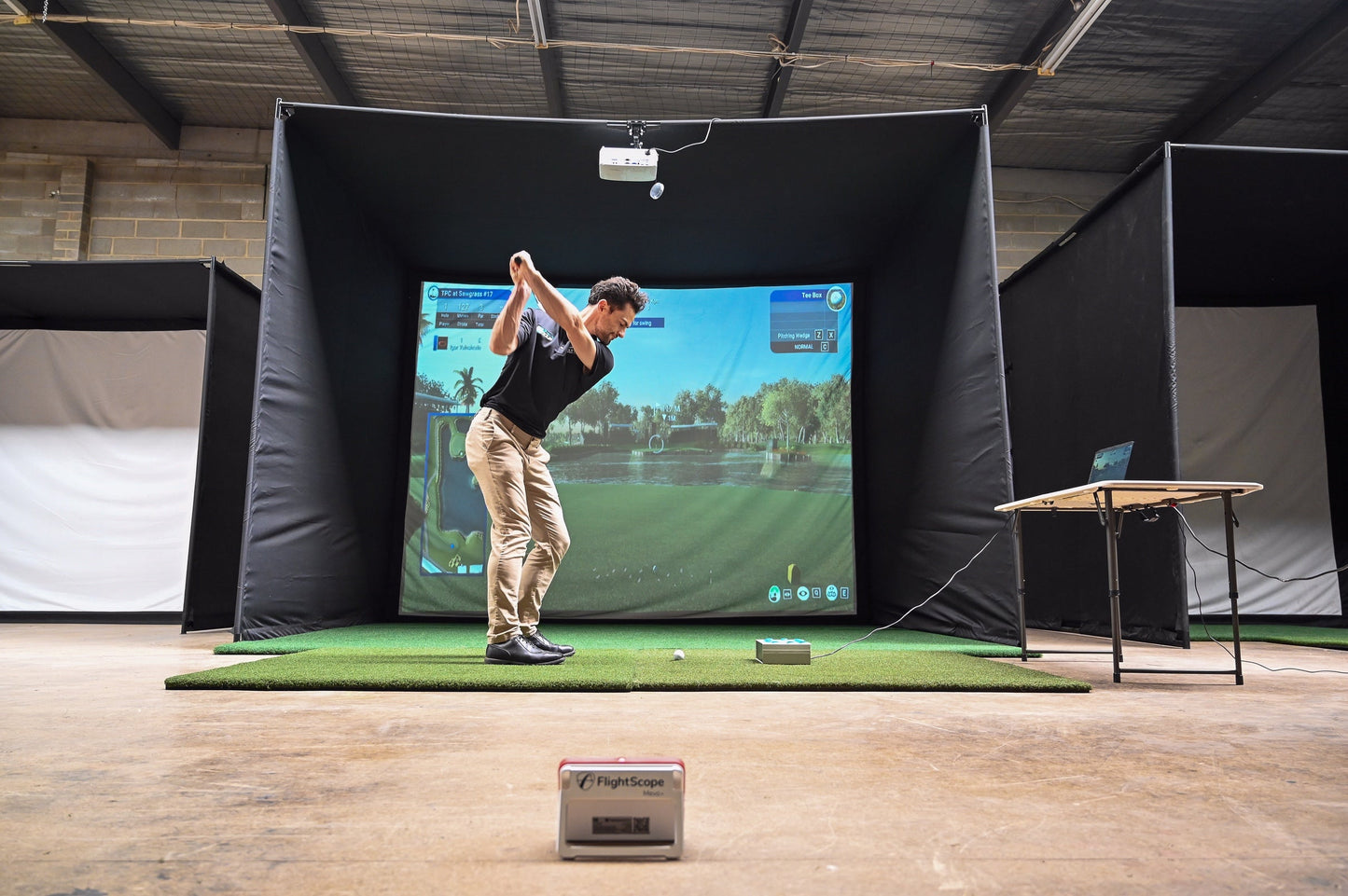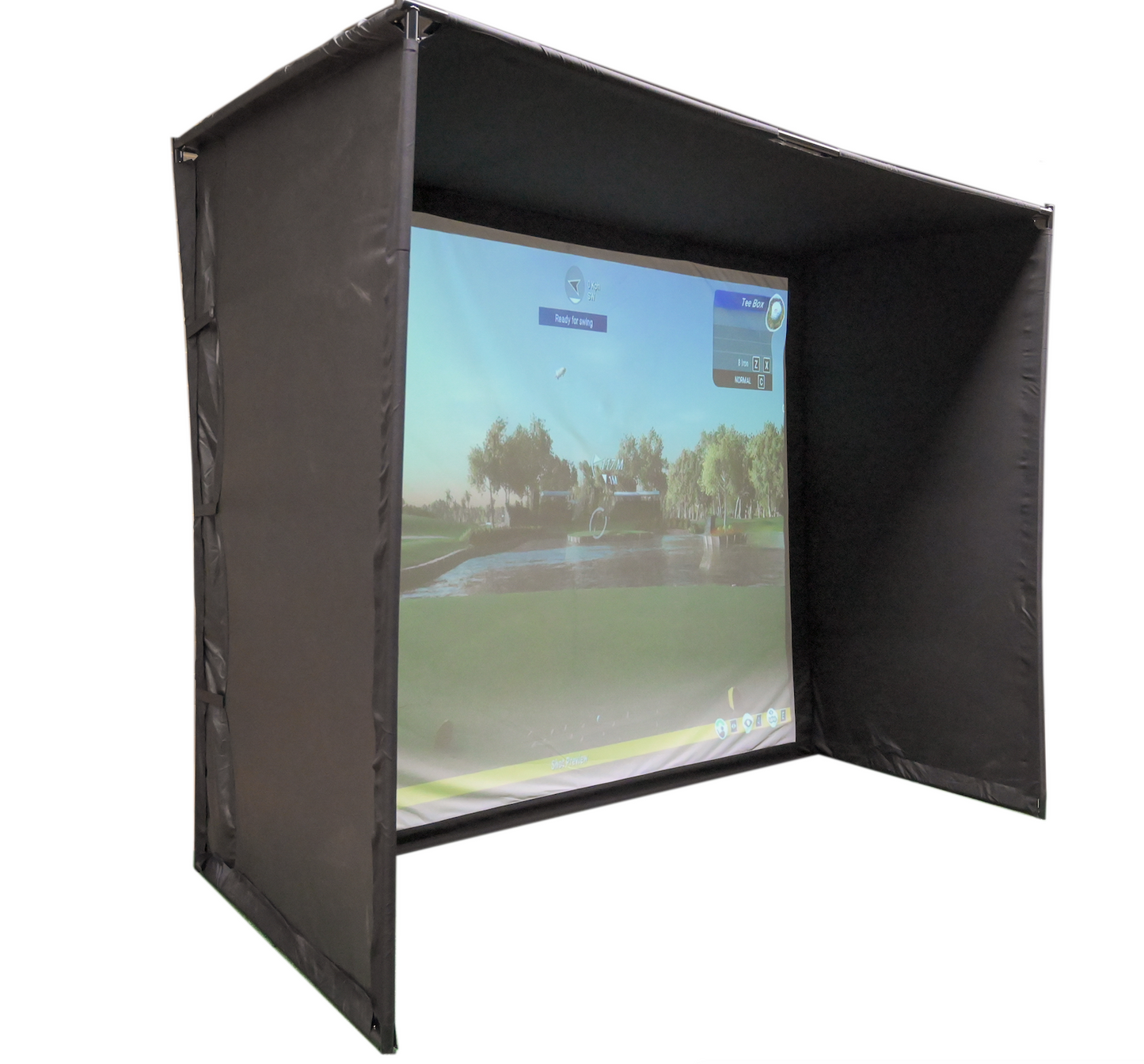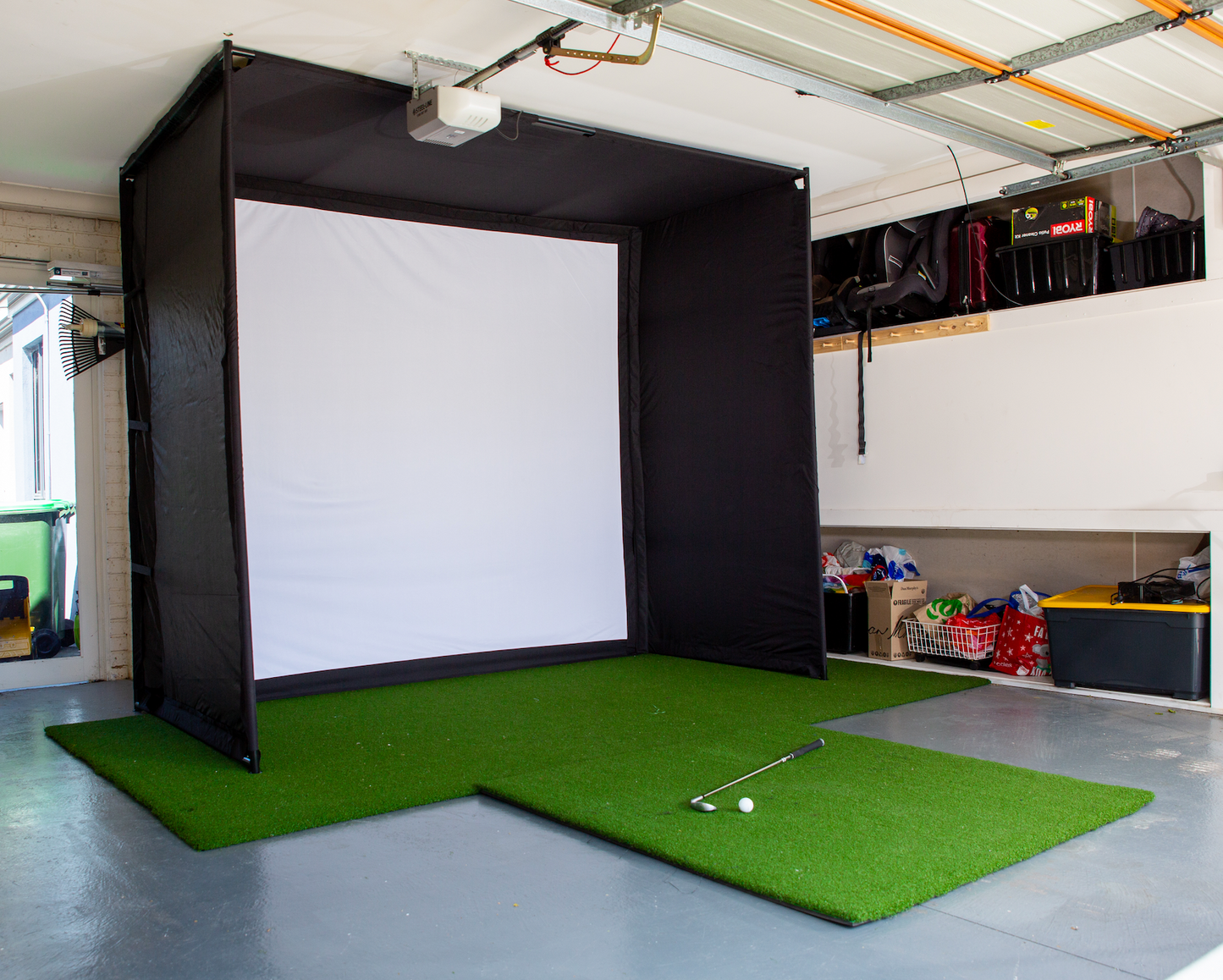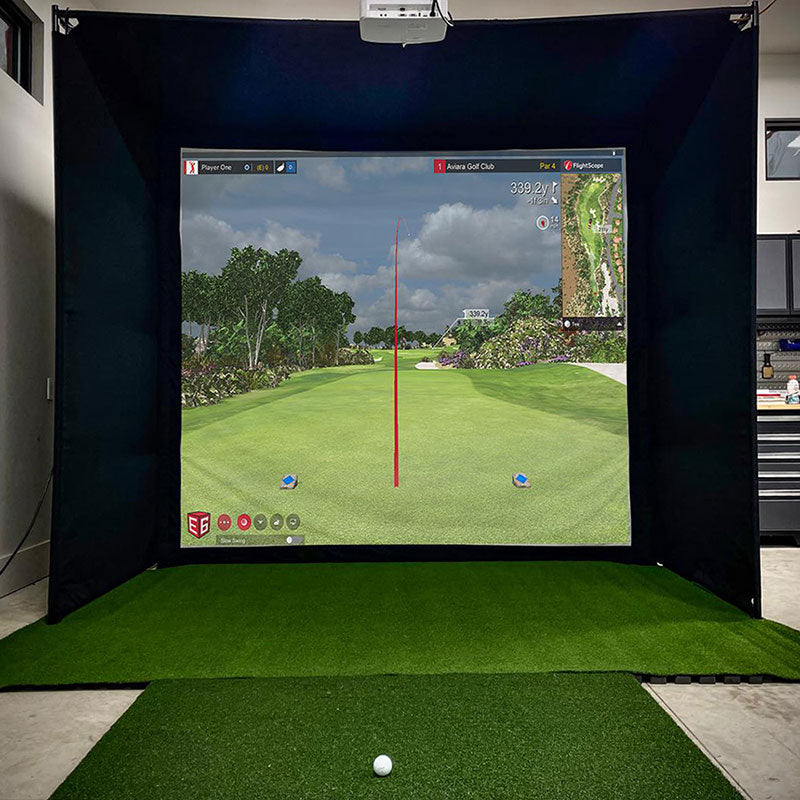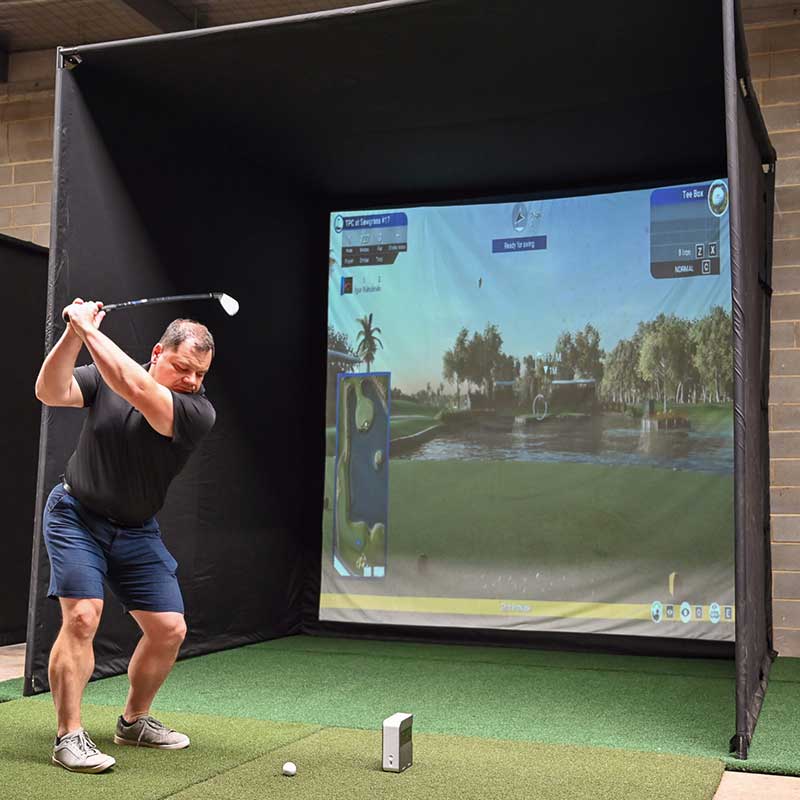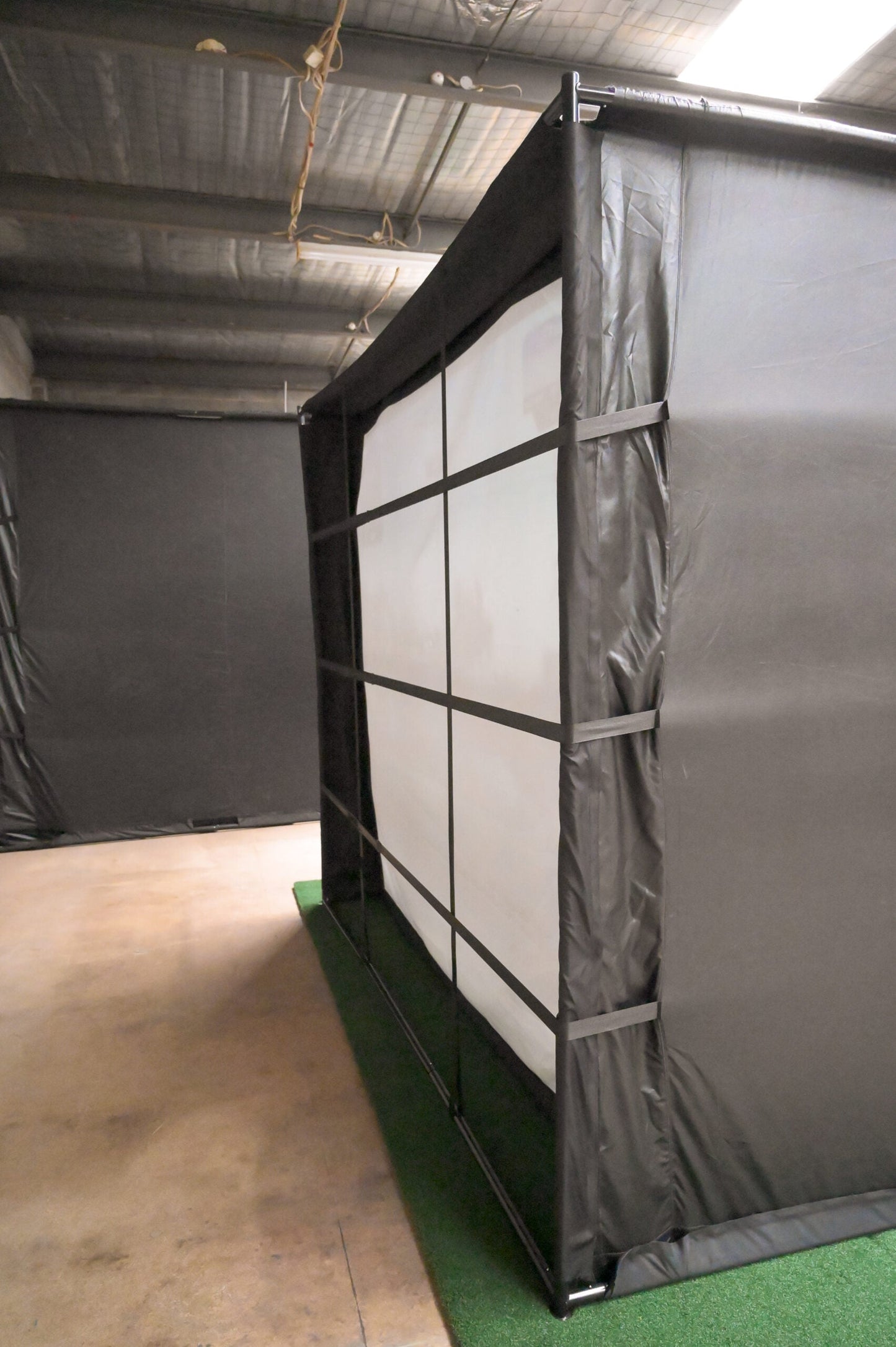 Product Details
24/7 Golf Simulator Bay Golf Enclosure –
Enclosure Sizes:
Par 3- 10' (W) x 8'6" (H) x 5'4" (D)
24/7 Golf Simulator Bay Enclosures are an affordable, all-in-one simulator solution for all golfers. Designed for indoor use only – your living room, mancave, basement, garage, office etc. The 24/7 Golf Simulator Bay Enclosure requires zero drilling or alterations to your existing space. These simulator enclosures are fully portable, take a single person only 30 minutes to set up, and can be stored in the ski bag.
The 24/7 Golf Simulator Bay Enclosure features a unique single-piece design, eliminating spaces for errant shots to burst thru the enclosure, protecting both the user and surrounding area. Each Simulator Bay Enclosure features a triple-layer commercial grade impact screen designed specifically to offer HD quality projection, noise dampening properties, as well as side and roof protection.
An incorporated velcro border around the screen edge enables users to easily replace the impact screen top layer, allowing owners to rejuvenate their screen without the need to purchase an entire new enclosure. Replacement screens are available for purchase from authorized distributors.
The 24/7 Golf Simulator Bay Enclosure incorporates an offset screen design, whereby the projector screen is positioned approximately 11" forward of the rear frame border, reducing 99% of the metal frame that surrounds a majority of other brand portable simulator enclosures, all but eliminating the chance of golf ball ricochet. The offset design also creates a built in rear buffer zone, leaving space for the screen to expand upon golf ball impact within the enclosure frame border.
All 24/7 Golf Simulator Bay Enclosure include an easy to assemble click-together metal frame, and have provisions to accomodate a projector mount (not included)
Includes:
24/7 Golf Simulator Bay Enclosure 
Sim Master 5ft x 5ft Premium Hitting Mat
Features:
Commercial grade triple layer HD quality projector screen

Single-piece design eliminating spaces for errant shots to burst thru the enclosure, protecting both the user and surrounding area.

Velcro Border Protection Pads

Replaceable projector screen top layer (available from official distributors as an optional extra)

Click-together metal frame

Offset screen design, all but eliminating the chance of golf ball ricochet.

Built in rear buffer zone

30 minute assembly time (single person)

Screen Material: Dual Layer 3.5mm 650gsm air mesh combined with a high-density 350gsm woven polyester

Package includes: Single-piece enclosure with commercial grade screen and click together metal frame
Warranty
The 24/7 Golf Simulator Bay Enclosure comes with a 3-Month domestic use warranty from manufacturing defect. The impact screen is a consumable that will wear out over time. To prolong the life of the impact screen, it is strongly recommended that owners only use clean, relatively new golf balls with no marker markings, cuts or scratches. Markings and scratches will significantly increase wear and reduce the lifespan of the screen.
Owners MUST ATTACH the included velcro border protection around the the entire edge of the impact screen (left, right and top) prior to use. Failure to use the included protection pads voids all warranties.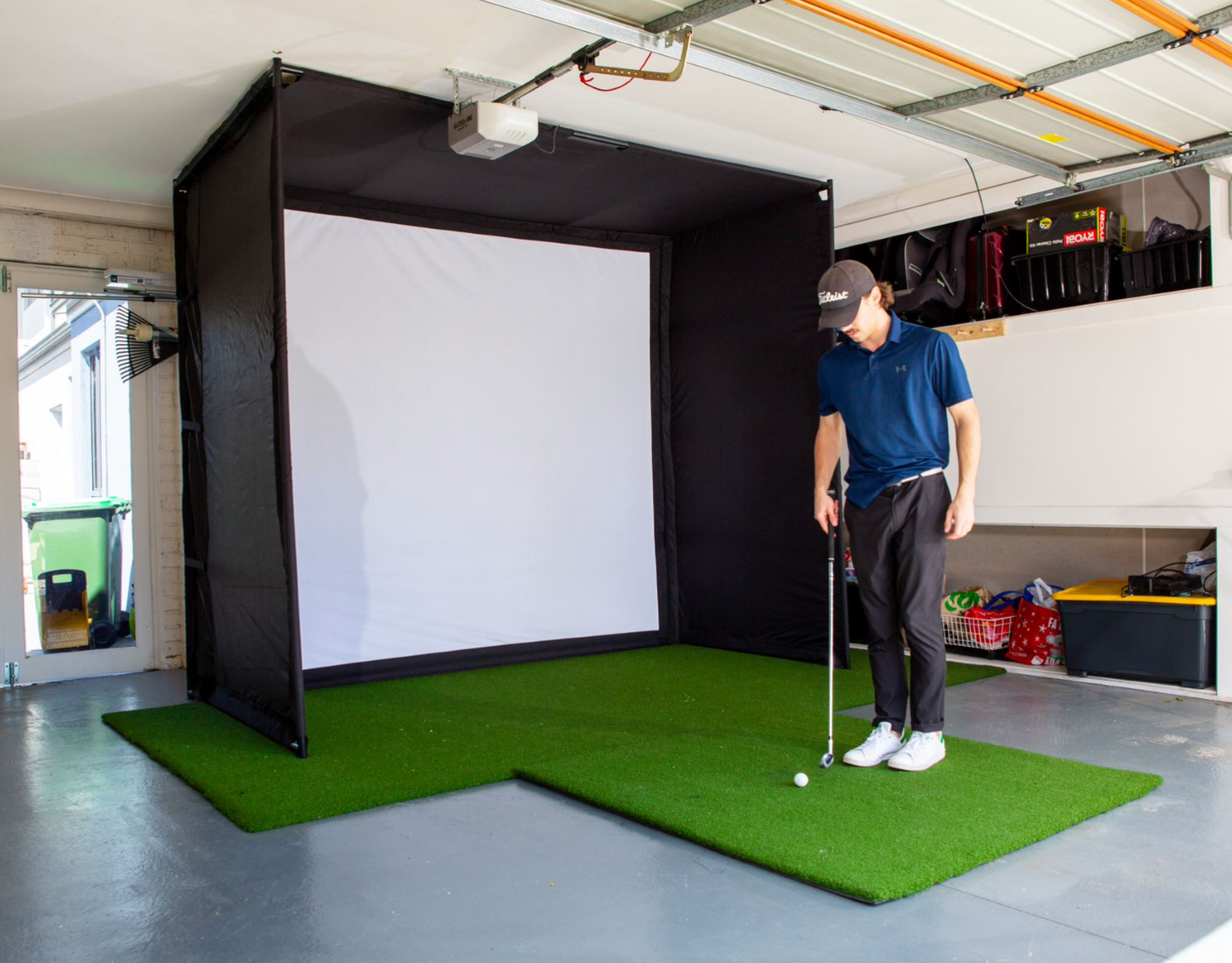 Use any launch monitor you want
There's never been a better time to get into the game of golf. With our BYO Launch Monitor Play Package, you can now enjoy driving ranges that are suitable for any space in your house without having an expensive simulator installed!
Course integration
FlightScope Golf App (FS Golf) - Included

This is your standard driving range software which displays all shot data, plots it on the range and includes dispersion circles. One awesome feature is the automated video clipping feature.

Mevo+ connects directly to your phone's camera, which you either place down the line behind the player, or parallel on the side, and automatically clips the video of your swing, then overlays the data of that swing on the screen.

This gives both players and coaches the opportunity to review both the physical swing combined with the outcome of the swing in one simple and quick interface.

Coaches can save these videos and forward to students, or, if Students own a Mevo+ themselves, can record the swings to submit to their coach online for review and coaching.
FlightScope Skills App (FS Skills) - Included

The is a skills test app. Users can choose from a variety of different pre-set skills tests, or create their own custom ones.

The skills app has users on the driving range once more, but has them aiming at targets set by the software, and ranks each shot.

At the end of each skills session the app will identify how well the golfer has performed, where they predominantly miss their shots etc, and gives them information to work on. It's practicing with precise purpose.
TruGolf E6 Connect (5 course lifetime) - Included

Apart from being a launch monitor, the Mevo+ is also a highly accurate golf simulator. Included at no extra charge is an E6 Connect lifetime subscription with five free real-life golf courses that players can use on their iPhone or iPad. They can even plug their device into a TV or projector to play at home. This is currently available for iOS only running iOS13.3 or later.
Collapsible content
TGC 2019 (The Golf Club 2019)

To play rounds of golf, we strongly recommend TGC2019 (The Golf Club 2019). This is our top of the range software, with over 150,000 courses including Pebble Beach, St Andrews and many more famous courses. This option allows up to four golfers at a time to play rounds off varying tees so that appropriate options can be selected depending on age, gender or ability. TGC 2019 also requires a high spec gaming computer with at least the following specifications.

OS: Windows 7/10 64Bit
Processor: Intel Core i3/i5/i7 @ 3.20GHz or equivalent
Memory: 8 GB RAM
Graphics: NVidia GTX 1050TI (or better), for 4K NVidia GTX 1080 (or better)
DirectX: Version 11
Network: Broadband Internet connection (Required)
Hard Drive: 30 GB available space
Sound Card: DirectX 11 compatible
Creative Golf 3D

Another great option which combines both serious simulator golf with options for both beginners and children is purchasing Creative Golf 3D. Creative Golf 3D includes realistic real life golf courses from around the world, an outstanding array of practice options, and with the optional Golfisimo Add-On, pitch & putt, mini golf, and quite a few entertainment based practice modules such as dart golf and destruction golf.
E6 Connect (Full version)

E6 connect is one of the world's leading golf simulator course software provider and the Mevo + integrates perfectly with E6 Connect being fully compatible.. At 24/7 Golf we are an official distributor of their software and can offer installation support as well. Over 100 premium golf courses available and you can play against people form all over the world. Incredible graphics and the most realistic golf playing experience.